SelectionFancy mimosa eggs, empanadas, bobun, burger, pâté en croute or couscous? Here is, for each of the twenty Parisian arrondissements, our selection of five restaurants to feast on without breaking the bank… updated before the summer.
This selection is not yet another list of the best Parisian restaurants, nor of the most typical harbors or the trendiest tables. It's a loving compilation of gourmet places, those that we would suggest to a friend or a friend who arrives in the capital or who has to have lunch in a neighborhood he does not know.
The selection criteria are for certain objectives: a formula that allows lunch at 20 euros or less (prices observed at the time of our visit), seasonal products that are not imported from the other side of the planet, a welcome smiling.
Other, more personal arguments tipped the scales: the establishments selected are canteens in the noblest sense of the term, places where you can see yourself coming back, and coming back again to taste, why not, this little pie? with apples that caught our eye on the neighbor's table.
Admittedly, the result is apparently very heterogeneous, mixing chubby institutions that have set up shop and classy grubs where you can taste Manchu specialties; delikatessen where you feast on wild Baltic Sea salmon and high-end kebabs… But basically, the same philosophy unites these fine addresses: the pleasure of delighting customers for a reasonable price, often at the price of great effort in the kitchen. We hope that this pleasure will be contagious!
Update on Saturday July 9 at 10 a.m.: six restaurant addresses have been modified, in the 2nd, 3rd, 10th and 19th arrondissements.
1 – Petit Bouillon Pharamond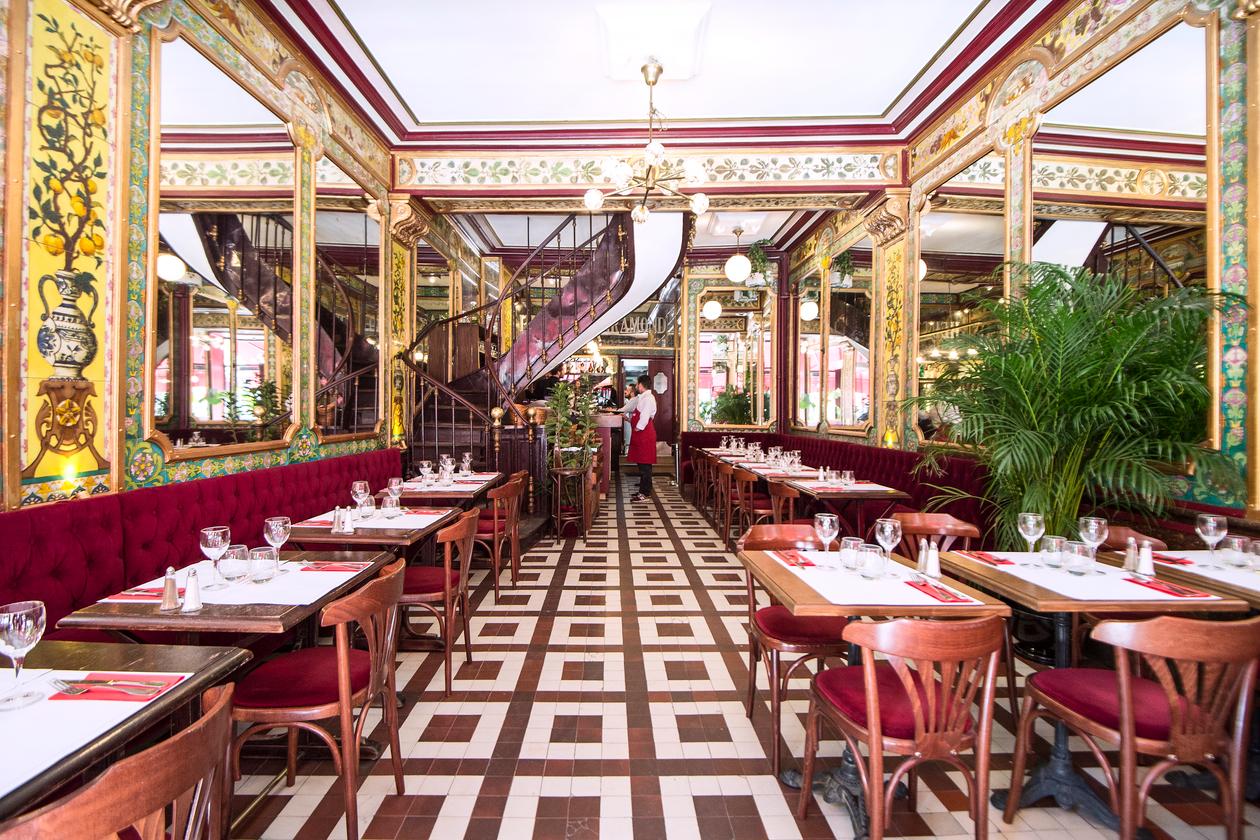 For us, it's the best broth in Paris (those restaurants in the capital offering inexpensive traditional cuisine). This institution created in 1832 near Les Halles offered bourgeois dishes, inspired by Norman cuisine, in a Belle Epoque setting. The two partners who took over the business in 2019 have kept the setting (floral ceramics, mirrors, woodwork) and transformed the kitchen by melting the prices.
Tripe à la mode de Caen (10.90 euros) is always on the menu, generously served in a steaming casserole dish. But the rest tackles with virtuosity the classics of Parisian brasseries: mimosa eggs (only 1.90 euro); bone marrow overflowing from the plate (4.10 euros); beef bourguignon pasta shells (10.50 euros)… For almost all of the menu, the owners get their supplies directly from the producers.
Two small shadows on the board: the bottles of wine (4 euros for 25 centilitres) are passable and it is not possible to book in this crowded establishment all week. Arrive early.
You have 97.45% of this article left to read. The following is for subscribers only.